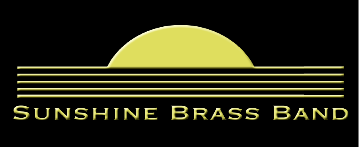 Sunshine Brass Band named Artist-in-Residence at TCC!
Tampa, FL
Sunshine Brass Band and Tampa Covenant have long enjoyed a great partnership of worship and great music! There have been several joint Sunshine Brass concerts featuring the Tampa Covenant Choir during the last few years. Tampa Convenant has officially designed the Sunshine Brass Band as the church's Artist-in-Residence. This designation represents a commitment to the Church for at least two large concert offerings during the Fall and Spring, plus more performance opportunities as they arise. In exchange, the Band gets long-term rehearsal space, and of course, fellowship with the Church congregation.
---
Holiday Concerts Announced
Tampa, FL
The Sunshine Brass has a few Holiday programs scheduled, in December 2015. Check our Concert Schedule for addresses and times. Also don't forget we will also have JOY! (our NEW Christmas album) and our Sunshine And Brass album from 2003 on-hand for $15/each.
Hope to see you there!
---
O Holy Night, the Sunshine Brass's first video
Deanna Cheyne's video project (in conjunction with Sunshine Brass Band) is finished and is available for viewing here. Thanks to Saint John's Episcopal Church of Tampa, Springs Theatre Studios, Morrisound Recording, and Diamond View Studios for their work in this project
Please consider buying JOY, the album on which this piece appears.
About the Band
The Sunshine Brass is a Brass Band in Tampa, Florida, serving our community since the early 1980s.

Our Director is James F. Cheyne.

We are a member of NABBA, a national competition held each Spring.

We have a CD recording for sale, and are working on a second CD recording of Christmas music.

Feel free to explore the top-level menu to learn more about us.